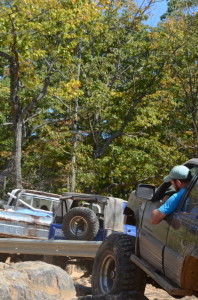 Spring is here and things are turning green outside… that tells us that the OHV trails at Uwharrie National Forest will re-open soon! Trails will re-open on the morning of March 29, 2013, (that's this Friday!)!
OHV trails re-opening means it is also time for the second annual URE Spring Jamboree at the Uwharrie Offroad Training Center!
Sponsored by Kevin Powell Motorsports, Tarheel 4WD Center, James River Equipment, R.S. Braswell Company, Mid State Toyota, M & L Motor Company, and Lake Norman Power Sports Scott Fields and the UORTC have pulled out all the stops! This Saturday, March 30, there will be 4×4 Field Games and other competitions, vendor booths, an ATV and UTV test track, helicopter rides, and the swap meet! Bring the wife and kids, stop by the Eldorado Outpost for a ham biscuit, hit the trails, then check out the swap meet while the family grabs a hot dog from The Smoking Dog folks!