Joined

Mar 17, 2005
Location
Jeep Project
Now
Jeep
Jeep - 1991-ish Wrangler
Engine - 2.2 Ecotec (GM) from 2003 ish (Cavalier)
Transmission - R150/AX15
Transfer Case - Toyota Gear Case
Rear Axle - 2003 Toyota E-locker Rear 8", 60.5 length
Front Axle - Ruffstuff 8" Toyota, lengthening 6" on the long side
----------------------------------------------
If you click on a
MAIN
topic it will take you to where it begins, in my thread.
.
Like wise if you click on a
SUB
topic, it will take you to where that specific topic is, in my thread.
----------------------------------------------
Engine
- 2.2l GM Ecotec N/A
Transmission
R150/AX15
The main chunk is R150 with a AX15 input shaft and a throw out bearing, i massage the internal a bit. Sky/Solstice Round part in the front (shit.......) [Bell-housing]​
T-case
Toyota Transfer Case (insert # R??) with a 4.7 gears.
After a long time ( 2 years off) i decided that i want a bottom load or a top load t-case.
So i made one. i am very please with it​
Front axle
ARP studs in the knuckle, hold the high steering arms, on.
Trunnion Bearing Eliminator Kit - - TrailGear, I got rid of the bearings on both sides.
Birfields and shafts = +6 on the long side. TrailGear (purchase from ECGS, plug for you Chase)
Knuckle ball wipes seals - TrailGear (yes i know i said TrailGear three times)
Brakes - Vented rotors and calipers.
Arms - high steering arm, just like everybody out there who has one. They work.
Locking Hubs - Ya, I have done anything with the locking hubs, but plan on 5/16" bolts, or the millimeter stuff...
Spindle nut
- Ya i made my own, take IFS nuts and grind off the part that stick up (click on "Spindle Nut")
​
Both Axles - Front/Rear Air Locker - Click Here
Oh ya....hehe.....
I can assure you this much, you can get the shaft for the accurwaiter (round pin) with out taking the chunk out, on the front axle.
I did this task 5 times. 1st is fluke, 2nd accident..... 5th time I mented that way........
By tipping it down, (pinion points down) the punching out the round spring steel (i forget the name of it) once out you can slide large pin out to hole.
With that pin, you have to machine it. (more on this later)
​
A/C compressor - Click Here
I got this off of ebay, the cheapest one i could find
cause that me....
I took it apart and machine the input / output ports, out so they could take a AN fitting.
I ended up taking the entire thing apart, the get to the flange that made it a 'wobble' plate compressor.
I took the spring out and replace it with a spacer, now it pump air.
​
Steering
Not much here, only that i have 7/8 heim joints and a fine thread bolt, holding it.
The tierod ends do have a (thing) to make it move up and down further.​
Frame
Custom, 2 x 4 x .188 box steel.​
Gas Tank
ahh, where to begging... In my humble opinion, the aluminum tank is fine, but you have to make sure that it is mounted properly. So, I made a small frame for the tank. The fame is then mounted on bushings (shock bushing) to it. Then I had to mount it to the gas tank itself. I used two straps that goes around the top and mount at the bottom. I was having a problem with find a low cost solution the separate the two metals... I found that the black stuff work awesome. I can get a roll from Speedway relatively cheep. They call it, "high density polyethylene plastic". It bends pretty well too.​
Fuel System
(aka Mounting a TJ fuel pump ) I bought this on ebay, it was OK, they have deceptive pictures, where they don't show you everything. If it were me i would make the outer edge at least 1/2" bigger. (1/2" what do you mean ? ) Well by being 1/2" smaller they can fit in to a smaller envelope. Ya, It that simple....... Again it not a big deal for me, as i am doing all myself.​
Exhausts
- Ya needed a muffler of some sorts. I am placing it in the back.
O2 sensor
- This is the #2 sensor, it ran fine with out it, but to get an inspection, i need one.
So much stroke is here..... :homer: oh well, can only laugh
The Beginning
Picked them up today. More/less a bunch of parts to put together. More details when I get to it..
Basically be building the gunmetal blue TJ and using the Green one for parts. Green one was hit on driver side and frame is bent a bit etc.. Will be selling off unneeded parts, axles etc..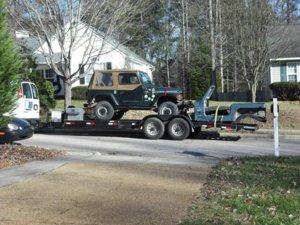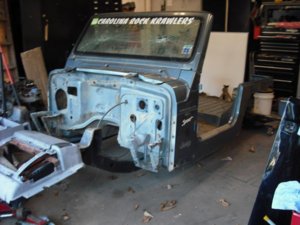 Last edited: