At the South Pole, the sun rises only once and sets only once per year. The pole sits atop a desert plateau on top of ice that is 9,000 feet thick.
In December 2011, a three man team will set out to beat the current record for reaching the South Pole overland. The Polar Expedition Vehicle by Ian Nisbett Design will attempt to break the Guinness World Record for the fastest Antarctic land crossing – exactly 100 years since the first humans reached the Geographic South Pole.
…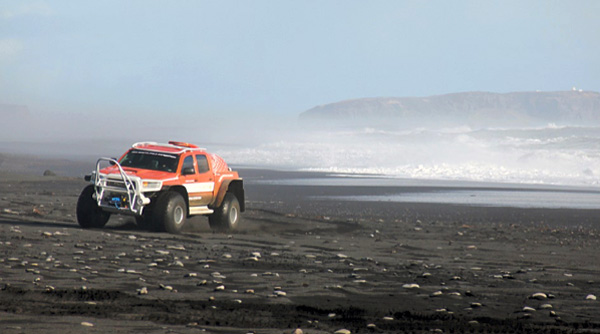 …
Following in the footsteps of Roald Amundsen, Ernest Shackleton and Sir Edmund Hillary, the team aims to break the current record of 2 days, 21 hours and 21 minutes, set by a V8-powered 6×6 in 2005. The Thomson Reuters-sponsored Polar Expedition Vehicle, or 'PEV', has been designed and tested over the past three years by engineers with experience ranging from industrial design to Formula 1 racing. The PEV team, led by polar explorer Jason De Carteret, has gone through extensive physical conditioning and they've bombed around Iceland to shake down the PEV and her systems.
…
…
The vehicle concept comes from Ian Nisbett Design Ltd, an industrial and transportation design consultancy based in the UK. The PEV was designed to break the Antarctic overland record but also to "act as a blueprint and inspiration for a new era in faster, safer and more environmentally friendly polar travel." The remote location and extreme weather conditions mean the United States Antarctic science facility's current fleet is slow, old and inefficient. The only other option is flying, so innovations that will lead to less-expensive methods for travel are in high demand. They need sturdy vehicles that will not only get from place to place but are easily repairable and will last for many years.
…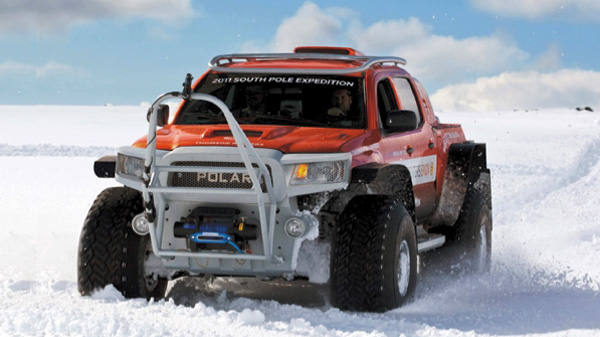 …
Now, for the meaty bits*…
Many features of the PEV appear to be basically stock and they're keeping a lot of details close to the vest. Here's what we've been able to learn… or figure out from hours of re-watching youtube clips:
Based on a Toyota Tundra/Hilux, this polar vehicle has a supercharged 4-liter, 320-bhp V6 engine with 32 gears. They claim it has the power-to-weight ratio of a rally car. A 2150-litre (about 568 gallons) fuel tank runs some sort of low-emission biofuel and they claim it uses half the fuel of similar vehicles. Speed and agility are key to getting the job done in record time, so the PEV rides on a "heavy duty long travel adjustable suspension" (with stock-looking front suspension, stamped A-arms, stock-looking brakes and all) and a 4-linked rear. It rides on wide 44-inch tires on 2-piece-beadlock-esque wheels and what looks to be a cross between a trophy truck rear axle and something out of Halo.
State of the art solar and wind turbine energy systems help to power the vehicle when the engine is off and operate the latest in real-time GPS satellite communication, navigation, weather and on-board safety monitoring systems. Internal and external cages, crevasse protection stinger, anti-slide snow anchors and cutting edge survival gear help to ensure the team's safety.
…
…
*It is always slightly disappointing to see what the top engineers in the field decide to upgrade and what they don't for something like this; but maybe it is just because I'm a junkie for killer welds and stuff.